Beach Brick Magic
When walking the beach in search of gifts from the sea you may come across red beach bricks. My magical association for beach brick is with house protection. The protection of the house itself and everything within it. I formulated that correspondence partly from my experience as a child with the story of, The Three Little Pigs. In that story the most protected house from the wolf was made of brick. Strong and sturdy, it provided safety for the pigs from the wolf and the elements and created an atmosphere of comfort and assurance. You can extend beach brick's association with house protection to general protection as well.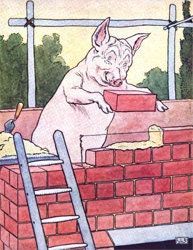 (Drawing by L. Leslie Brooke)
Beach Brick Workings
I like to draw upon nearby boulders with wet beach bricks. You can draw sigils, write petitions, lay down spells, and more.
Instead of dusting your thresholds with brick dust try drawing a line upon your step especially if it's made of stone.
Place a beach brick in the corners of your house or land.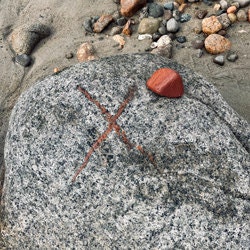 (My drawing upon a rock with beach brick)
Resources
The Golden Goose by L. Leslie Brooke