Making Dragon's Blood Ink
Dragon's Blood Resin
Thought to contain the blood of dragons, the dragon blood tree (Dracaena spp.) is one of the oldest living trees in the world. Ancient Arabs, Greeks, and Romans used this type of dragon's blood resin in dye, varnish, paint, and as medicine for a number of ailments including wound healing and skin problems. Dragon's blood resin is most commonly used in incense, inks, and magic.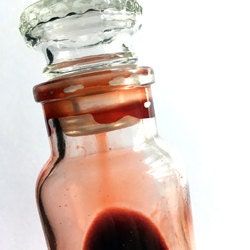 My homemade Dragon's Blood Ink
Dragon's Blood Ink
Dragon's blood ink is a magical ingredient and not all dragon's blood resin on the market can be made into ink. Only resin from a true dragon's blood tree can be used for that purpose. I used Medieval dragon's blood (Dracaena cinnabari) in the recipe below. Gory as this ink looks, it doesn't contain any blood. In magic it is said to hasten and enhance spells. Use dragon's blood ink to write spells, craft sigils, and when signing pacts.
Ingredients
Directions
Place the dragon's blood resin in a small glass bowl.
Add the alcohol and mix with a popsicle stick or chopstick.
Let infuse 15 minutes.
Strain resin/alcohol mix through cheese cloth that has been placed in a strainer over another bowl.
Funnel strained dragon's blood ink into a bottle with a tight fitting lid.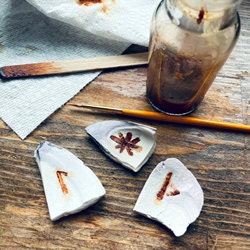 Runes painted on seashells in dragon's blood ink
Tips
You can add 1-2 tablespoon more vodka to the dragon's blood ink if you wish to dilute it.
If you wish to make a thicker ink leave it uncovered to evaporate until your desired thickness is reached.
You can also add some essential oils for fragrance or to correspond with a specific purpose.
Homemade ink may clog pens, but a fine point paint bush works great.
To clean your brush wet a piece of paper towel with 100 proof alcohol.
Bat's Blood Ink and Dove's Blood Ink can all be made from Medieval Dragon's Blood Resin.
Any equipment used in the ink making process should stay for use in ink making.
Shake ink before using.
Wear gloves while straining.
Resources
Purchase Medieval Dragon's Blood
The Witches' Almanac Spring 2015-2016
A Witch's Halloween by Gerina Dunwich