Pumpkin Potpourri
This adorable pumpkin potpourri is made with putka pods. Putka pods come from the Glochidion ferdinandi tree that grows naturally in Australia. Tossed in fragrance oil and placed in a jar, these tiny looking pumpkins bring a festive feel to your home.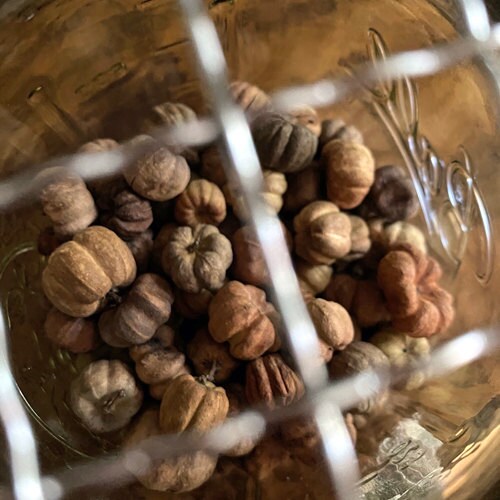 Ingredients
1 cup natural putka pods
1-3 teaspoons pumpkin pie fragrance oil
¼ teaspoon dried orris root cut
1 pint wide mouth jar with metal band
1 frog lid
Directions
Add the putka pods and orris root to a fragrance safe bowl.
Drizzle a little of the fragrance oil over the putka pods at a time and mix. The goal is to lightly wet the putka pods, but not add so much oil that it makes them slimy.
Transfer the scented putka pods to the jar, place on the frog lid, and then the metal band. 
Tips
Give the jar a gentle shake once in a while to release more scent.
The frog lid is there so the scented putka pods can send its fragrance into the air. If you wish to use the jar lid when not in use, place a piece of plastic wrap between the lid and jar. Sometimes the fragrance oils can corrode the metal lids and eat at the rubber gasket.
Decorate the outside of the jar for the occasion. Burlap ribbon or homespun tied around the jar is a nice rustic touch.
Use a rusty frog lid and band for a more primitive look.
Hand paint some of your putka pods and then seal them for a pop of color. Add them after you've already scented the other pods.
You could use essential oils to keep things all natural.
Add in some salt dough ornaments, mini grapevine stars, tiny cinnamon sticks, and other natural craft supplies to spice up your potpourri.
Change your scent! Add spicy and evergreen fragrance oils for a winter feel.
Frog lids can be found in the floral section of your craft store.
Over time the scent will dissipate. Just add a few more drops of your fragrance oil to the putka pods in the jar and give them a little shake.
Resource